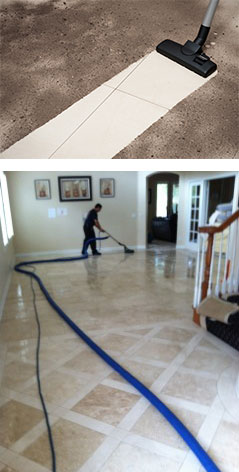 If you've ever gotten down on your hands and knees with a scrub brush and a bucket of cleaning solution, you know how difficult it is to get tile and grout cleaning! The amount of elbow grease required to brighten your kitchen or bathroom tile isn't worth the time, which means most people don't even bother deep-cleaning these areas.
CLICK TO CALL US & SCHEDULE TILE AND GROUT CLEANING TODAY!
Valley Carpet Cleaning gives you the best of both worlds: fresh-looking, pristinely-cleaned tile, without having to put forth any effort to get it! Our professionals are adept at tackling even the most neglected tile and grout, to restore its brilliance and integrity for years to come.
Tile cleaning: Porcelain, terra-cotta, travertine and more are all within our scope of experience and we understand how to properly approach all of these materials to provide a restorative clean. We can target soap scum, hard water stains, dirt and any other debris to improve the overall aesthetic of your tile floors, showers and backsplashes, in virtually any room of your home or business.
Grout Cleaning: The space between matters. We remove dirt and grime in your grout to make your tile floors look like new again. Moreover, as a knowledgeable grout cleaner in Granada Hills, CA, we understand how to restore your grout's appearance without simply masking stains or worse, damaging the grouting material. Our grout cleaners' level of clean is a level that exceeds all others.
Your tile surfaces represent an investment in quality and sophistication—don't let them succumb to age or wear and tear. Instead, consult the professionals at Valley Carpet Cleaning regarding tile and grout cleaning in Granada Hills, San Fernando Valley, Porter Ranch, and Northridge, CA. We can help you assess the condition of your tile and grout, and provide service to help bolster its condition and appeal. Contact us today at 818-368-1711 for more information on tile, grout, area rug, and carpet cleaning.