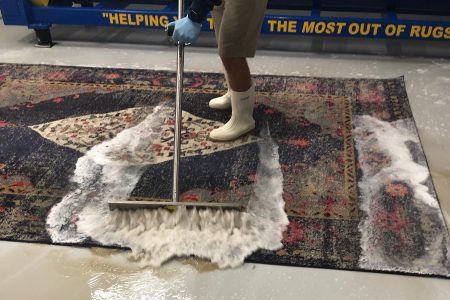 Area rugs are a beautiful addition to any room, and can protect your flooring in high-traffic areas. If you've got beautiful rugs that look dull, faded, stained or just plain dirty from traffic and age, call Valley Carpet Cleaning to restore them to a like-new condition! We're the premier area rug cleaners in Granada Hills, San Fernando Valley, Porter Ranch, and Northridge, CA, handling everything from simple rugs to delicate and expensive oriental rugs.
CLICK TO CALL US & SCHEDULE RUG CLEANING TODAY!
Valley Carpet Cleaning treats every rug with the utmost care, using state-of-the-art rug cleaning products and equipment to ensure a deep clean that's also gentle on the material.
Our Rug Cleaning Approach
We carefully clean your rugs using a proven step-by-step process, backed by state-of-the-art materials. We use equipment such as a tumble duster and a centrifugal rug ringer, which offer deep-clean capabilities that won't harm even the most delicate rugs. We wash rugs using only safe chemicals, to extract dirt, debris, odors and anything else embedded in the fibers. Then, your rug goes into our temperature-controlled drying room to safely dry, with no threat of mold, mildew or odors.
Why Invest in Professional Area Rug Cleaners?
Even rugs that don't see high traffic need routine cleaning. Vacuuming helps, but it's not enough to remove the particles and debris that gets trapped deep within the fibers. Other services, like oriental rug cleaning, require a delicate touch and the right cleaning products to clean the rug without damaging it.
We have 30 years of experience cleaning area rugs and know exactly how to get the best results from your rug. We can revitalize the fibers, rejuvenate the colors and breathe new life into a rug, no matter how old or worn it is! Contact us to refresh the rug, remove allergens and microbes trapped in its fibers, and extend its lifespan so you can continue to enjoy it for years to come.
We'll Clean Any Rug!
Big or small, conventional or oriental, residential or commercial, we're the rug cleaners you need. Contact Valley Carpet Cleaning today at 818-368-1711 to learn more about our approach to rug cleaning or to schedule a commercial or residential carpet cleaning. We'll let the results speak for themselves!